QUICK SEARCH
What Tickets do You Need?
Broadway Events in Ashburn:
Broadway Buzz
Watch Taylor Swift, Jennifer Hudson & Cats Stars Rehearse Dance Moves from the Upcoming Film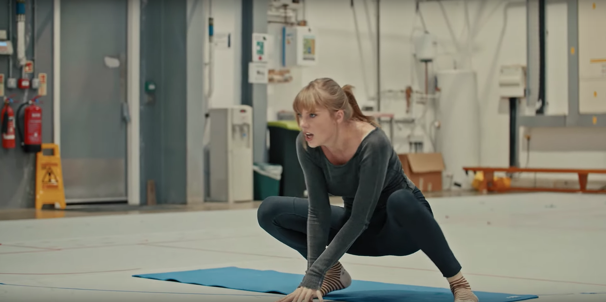 We're just five months away from the release of the highly anticipated screen adaptation of Andrew Lloyd Webber's legendary musical Cats. Universal Pictures has just offered up an exciting first look into the making of Tom Hooper's major motion picture, featuring Tony-winning choreographer Andy Blankenbuehler with a number of the film's stars, including Taylor Swift, Judi Dench, James Corden and Jennifer Hudson. "When I first heard I was going to be in Cats, instantly I felt the pressure," said Hudson. "This musical is timeless," added Swift, noting, "We've got to update it in ways that are I think are so, so, so great." Corden said, "I think it could really only be done by a director like Tom Hooper. He understands the spectacle of Cats." Watch the cast rehearse dance moves from the film below and mark your calendar: Cats arrives in cinemas on December 20.


---
Watch The Lion King's Bradley Gibson, Ben Jeffrey & Jim Ferris Perform 'Hakuna Matata'
What a wonderful phrase! Enjoy Bradley Gibson, Ben Jeffrey and Jim Ferris' super fun performance of The Lion King classic.
---
Lenne Klingaman, Michael Countryman Set for Will Eno's The Underlying Chris at Second Stage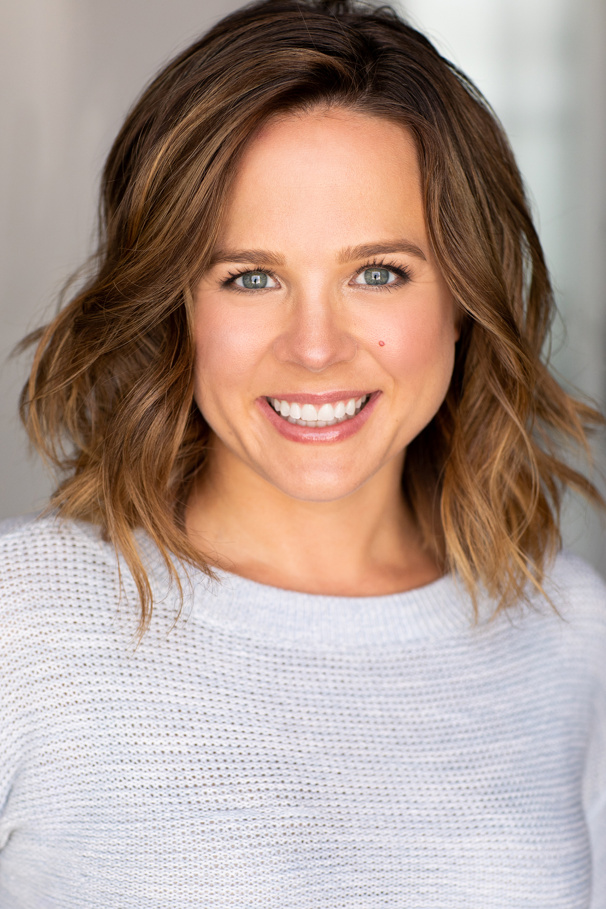 Complete casting has been announced for Second Stage's upcoming world premiere staging of Will Eno's The Underlying Chris. The previously announced off-Broadway production, directed by Tony winner Kenny Leon, will begin previews on October 29 and open on November 21 at the Tony Kiser Theater.

The cast will include Lenne Klingaman (Waitress), Michael Countryman (M. Butterfly), Hannah Cabell (The Father), Ebony Jo-Ann (Gem of the Ocean), Lizbeth MacKay (Picnic), Nedra McClyde (Marvin's Room), Howard Overshown (Saint Joan), Isabella Russo (School of Rock), Charles Turner (The Little Foxes) and Luis Vega (Tell Hector I Miss Him).

The Underlying Chris is a spirited look at how a person comes into their identity, and how sometimes it is life's tiniest moments that most profoundly change our lives.

The production will feature scenic design by Arnulfo Maldonado, costume design by Dede Ayite, lighting design by Amith Chandrashaker and sound design by Dan Moses Schreier.

The Underlying Chris is scheduled to play a limited engagement through December 15.
---
Feast Your Eyes on a Dazzling First Look at Moulin Rouge! on Broadway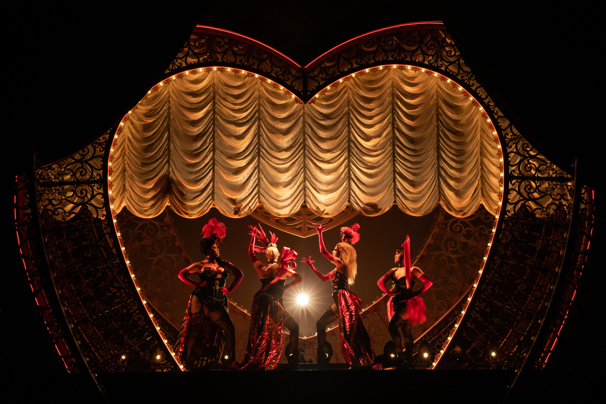 Gitchie, gitchie, ya-ya, da-da! The first look at the hotly anticipated Broadway musical adaptation of Moulin Rouge! has arrived. The show, which stars Karen Olivo and Aaron Tveit in the roles of lovers Satine and Christian, opens at the Al Hirschfeld Theatre on July 25. Enjoy the shots, and then go see the stage dazzler for yourself!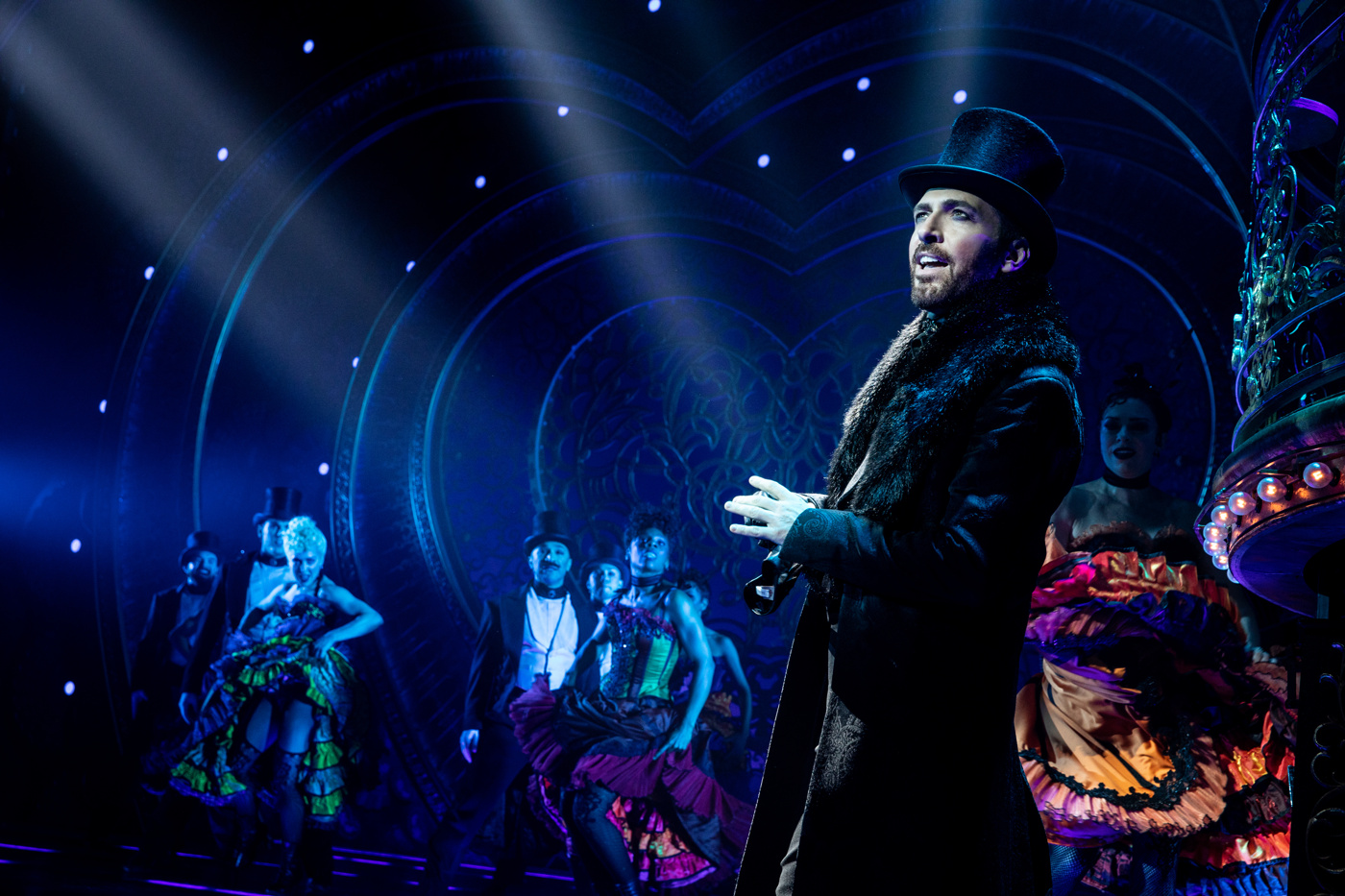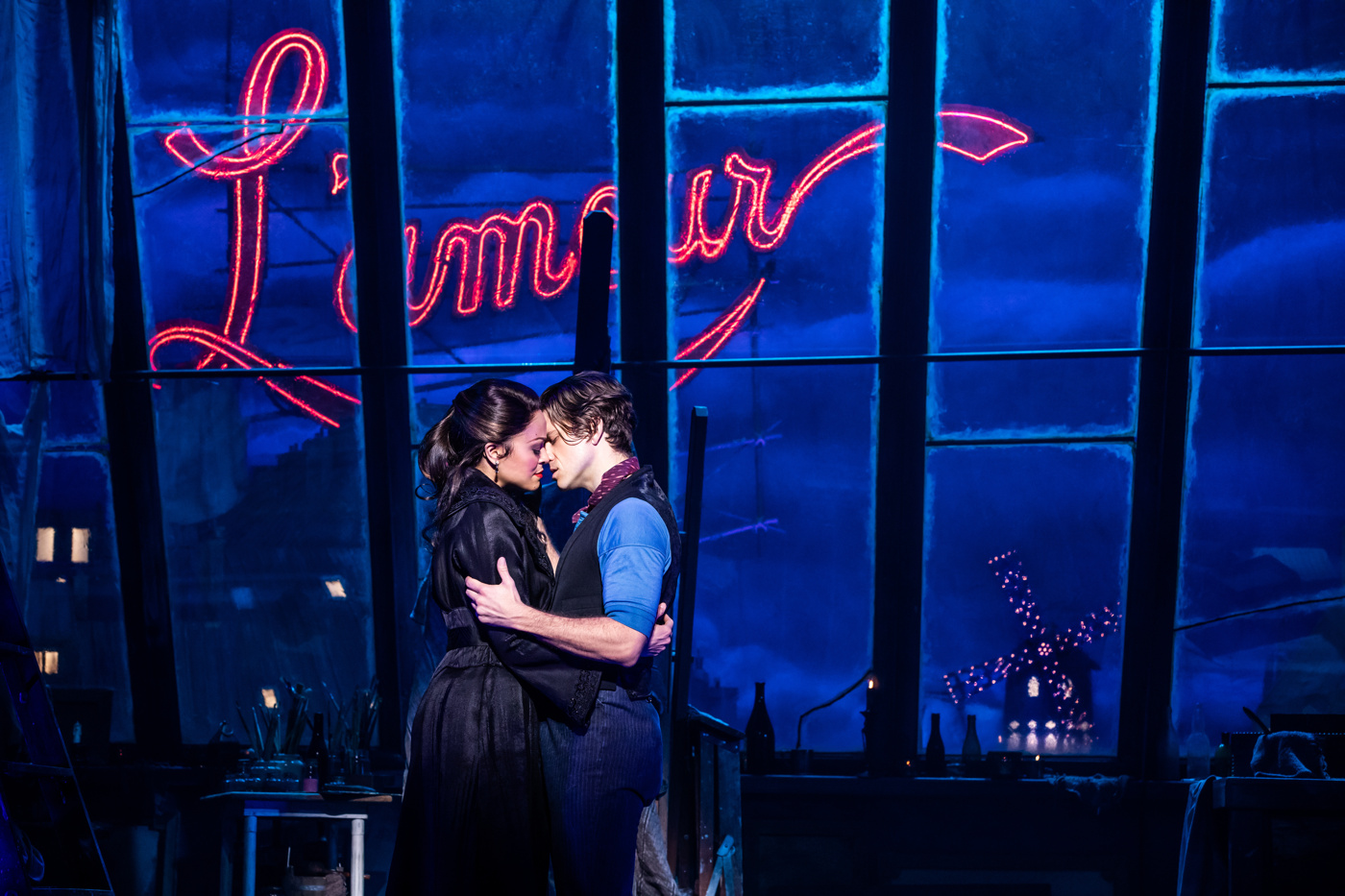 ---
Broadway.com #LiveatFive with Danny Burstein of Moulin Rouge!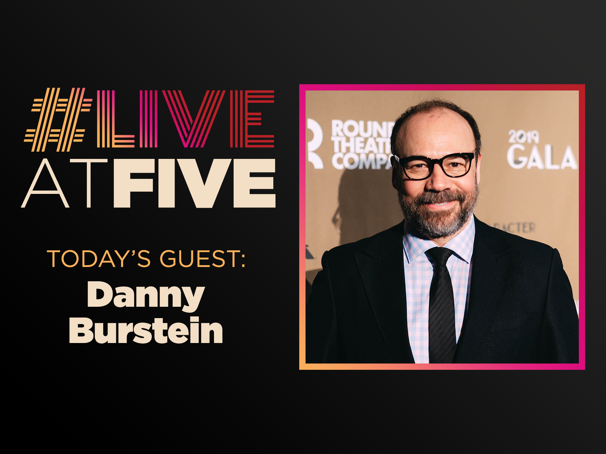 Danny Burstein stops by Broadway.com HQ to chat about playing Harry Zidler in the Broadway production of Moulin Rouge! and more with Paul Wontorek.
---
Backstage at Aladdin with Michael James Scott, Episode 4: B'way Friends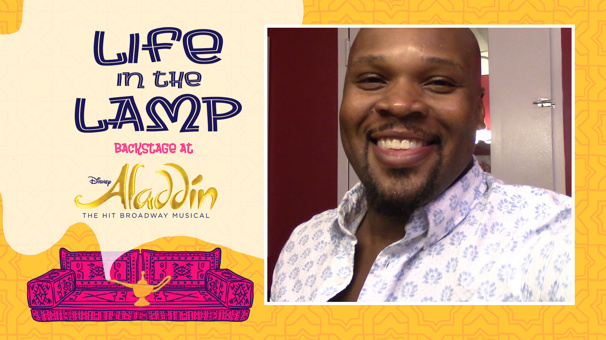 Aladdin star Michael James Scott hangs out with a bunch of Broadway friends, says hello and goodbye to co-stars, checks in with original cast members and more!
---
Odds & Ends: Andy Karl & Orfeh to Be Honored by Humane Society & More
Here's a quick roundup of stories you might have missed today.

Andy Karl & Orfeh to Be Honored by Humane Society
The Humane Society of New York has announced that married couple, Pretty Woman co-stars and proud animal lovers Andy Karl and Orfeh will be honored with the Sandy Fund Award at this year's Best in Shows benefit. Karl and Orfeh will be recognized for their deep concern and support of rescued animals at the event, to be held at Feinstein's/54 Below on October 14 at 7:00pm. "I've met some of the most hard-working, generous and kind people through the animal rescue world. It's very important to us to be the voice for the voiceless, and we've been involved with some of these organizations our entire marriage," said Orfeh. "We are thrilled to be honored by the Humane Society of New York." The 6th annual Best in Shows event, presented by Dorothy and Bill Berloni, will have music direction by Seth Rudetsky, who will also host the star-studded event.

Derren Brown Releases New TED Talk in Advance of Broadway Debut
Derren Brown, the two-time Olivier-winning master of illusion gearing up for his Broadway debut in Derren Brown: Secret, has ...
---
Harry Styles Tapped to Play Prince Eric in Live-Action Little Mermaid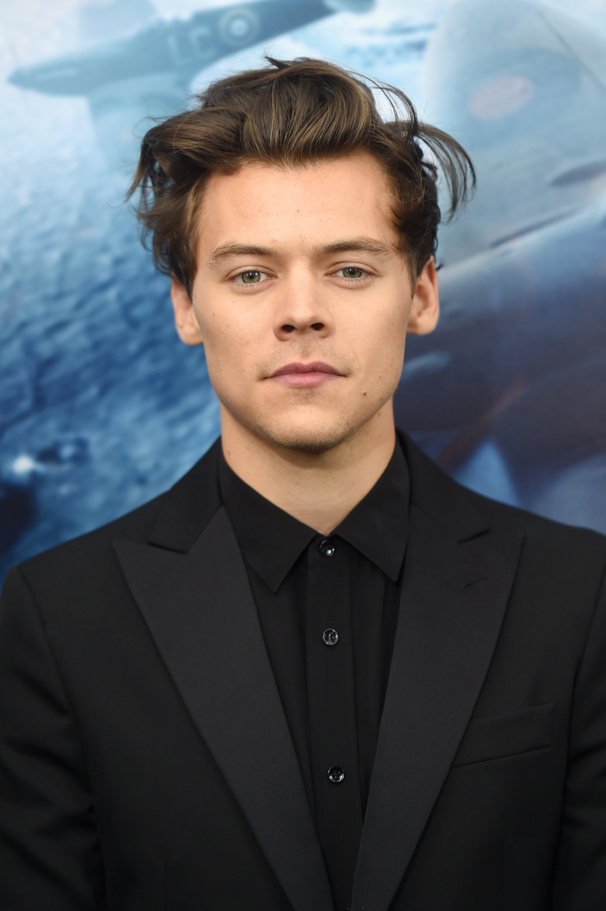 Harry Styles, strong-voiced band member of One Direction and featured star of the major motion picture Dunkirk, is in early talks to portray Prince Eric in the upcoming live-action remake of The Little Mermaid, according to The Hollywood Reporter. Tony and Oscar nominee Rob Marshall is at the helm of the film, which recently announced Halle Bailey in the lead role of Ariel.

Should Styles be cast, it's likely that filmgoers will get to hear singing contributions from him in the role. While the original 1989 animated Little Mermaid didn't feature any songs for Prince Eric (voiced by Christopher Daniel Barnes), the 2008 Broadway musical (featuring Sean Palmer as Prince Eric) introduced a pair of solos for the role. Composer Alan Menken, who won two Oscars for his contributions to the animated film and was Tony-nominated for the stage show's new songs, is updating the score for the remake, which will feature a fresh number with lyrics by Lin-Manuel Miranda.

Stars also in negotiations to appear in the live-action film include Melissa McCarthy as Ursula as well as Jacob Tremblay as Flounder and Awkwafina as Scuttle. Production is expected to begin in 2020.
---
Jack Viertel Will Step Down as Encores! Artistic Director Following 2020 Season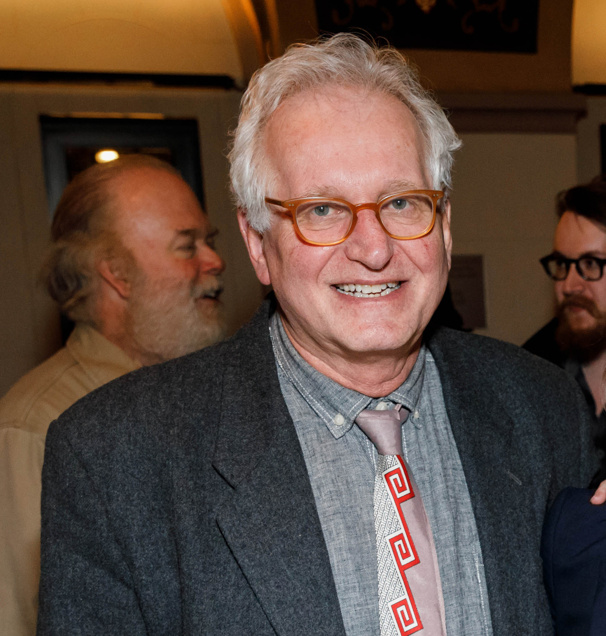 New York City Center has announced that Encores! Artistic Director Jack Viertel will step down from his longtime role at the end of the 2020 series—after 20 seasons as the renowned leader of the Tony-honored musical-theater series. Viertel will continue to play an active role at City Center in the new position of consulting producer for musical theater.

Viertel began his relationship with the venerable series as a member of its founding advisory committee. He was appointed Encores! artistic director in 2000, and along with music directors Rob Fisher, Paul Gemignani and, for the last 12 seasons, Rob Berman, Viertel has overseen more than 60 productions, including gala presentations and the Encores! Summer Stars series.

Among the highlights of Viertel's tenure are the Summer Stars presentation of Gypsy (2007), starring Patti LuPone, Laura Benanti and Boyd Gaines, which transferred to Broadway—winning Tony Awards for all three performers—as well as the Encores! productions of The Apple Tree (2005) and Finian's Rainbow (2009), which also moved to the Great White Way under Viertel's leadership. The Encores! revue Cotton Club Parade transferred to Broadway in 2013 under the title After Midnight, winning Warren Carlyle a Tony for his choreography.

Viertel said, "It has ...
---
Sas Goldberg on the Importance of Saying Moscow Moscow Moscow Moscow Moscow Moscow's Full Title, Writing the Mystic Pizza Musical & More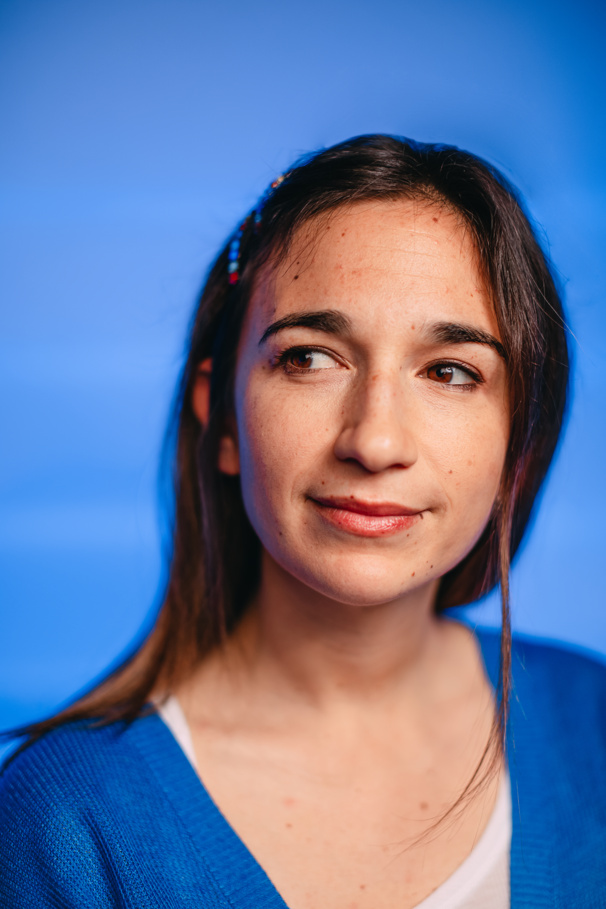 Sas Goldberg is currently giving new life to Chekhov's Three Sisters in Halley Feiffer's Moscow Moscow Moscow Moscow Moscow Moscow off-Broadway. The repeating title is often shortened by those talking about the new play, but it actually serves an important purpose within the show. "The exhaustive nature of saying the full title is part of the show," Goldberg said to Paul Wontorek in a recent interview on Broadway.com's #LiveAtFive. "It's an adaptation of Chekhov's Three Sisters, but you will not be tired seeing this. Halley [Feiffer] is a genius."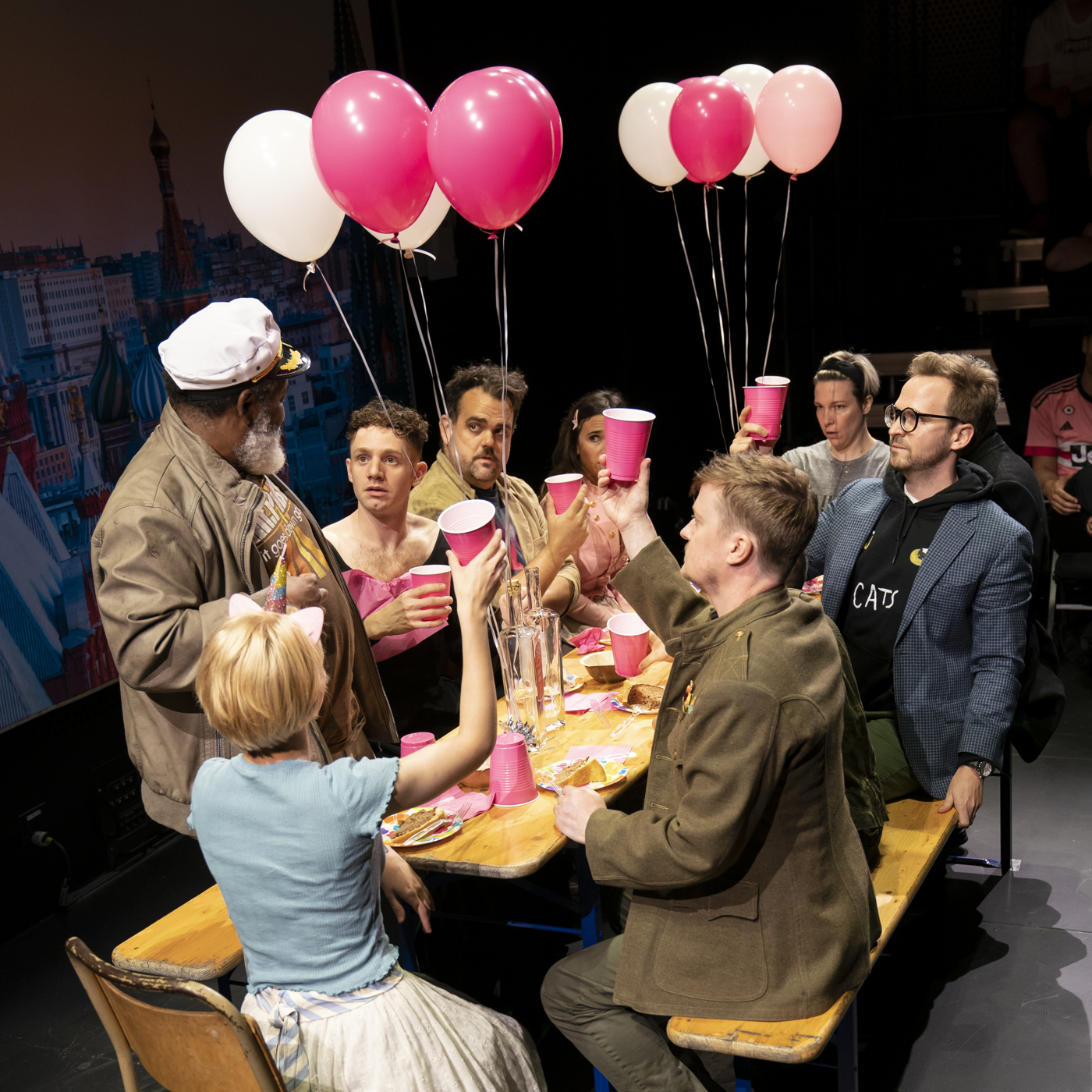 Moscow Moscow Moscow Moscow Moscow Moscow is a new take on Chekhov's 1900 play, but Goldberg wants audiences to know that the new work still stays true to its inspiration. "It is a pretty faithful adaptation, but it's totally put a new spin on it," she said. "The show starts like you get shot out of a cannon. I don't want to give anything away, but it's shocking the way everything happens."
Not only is Goldberg busy getting ready to open the new play on June 26, but she's already busy writing the previously ...
---
Broadway Stars Step Out for a Special Screening of The Lion King
We just can't wait to be king and neither can these Broadway stars! Ahead of The Lion King's highly anticipated premiere date on July 18, stage favorites attended a special screening hosted by Disney Theatricals. Cast members of Broadway's The Lion King, including Adrienne Walker who returns to the long-running musical tonight, stepped out for the event as well as stars from Frozen, Aladdin, Dear Evan Hansen, Ain't Too Proud and more. Check out the photos to go inside the circle of life.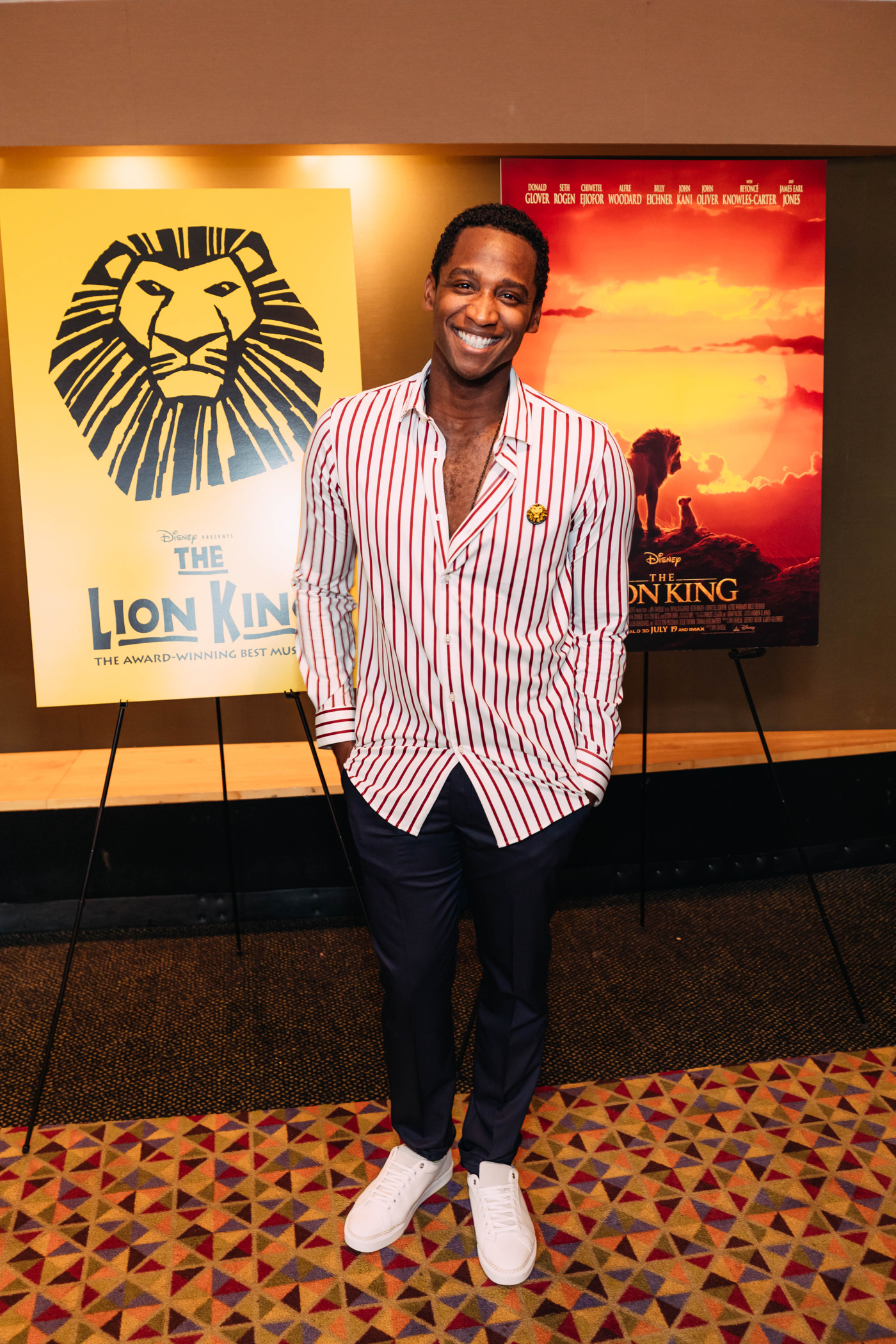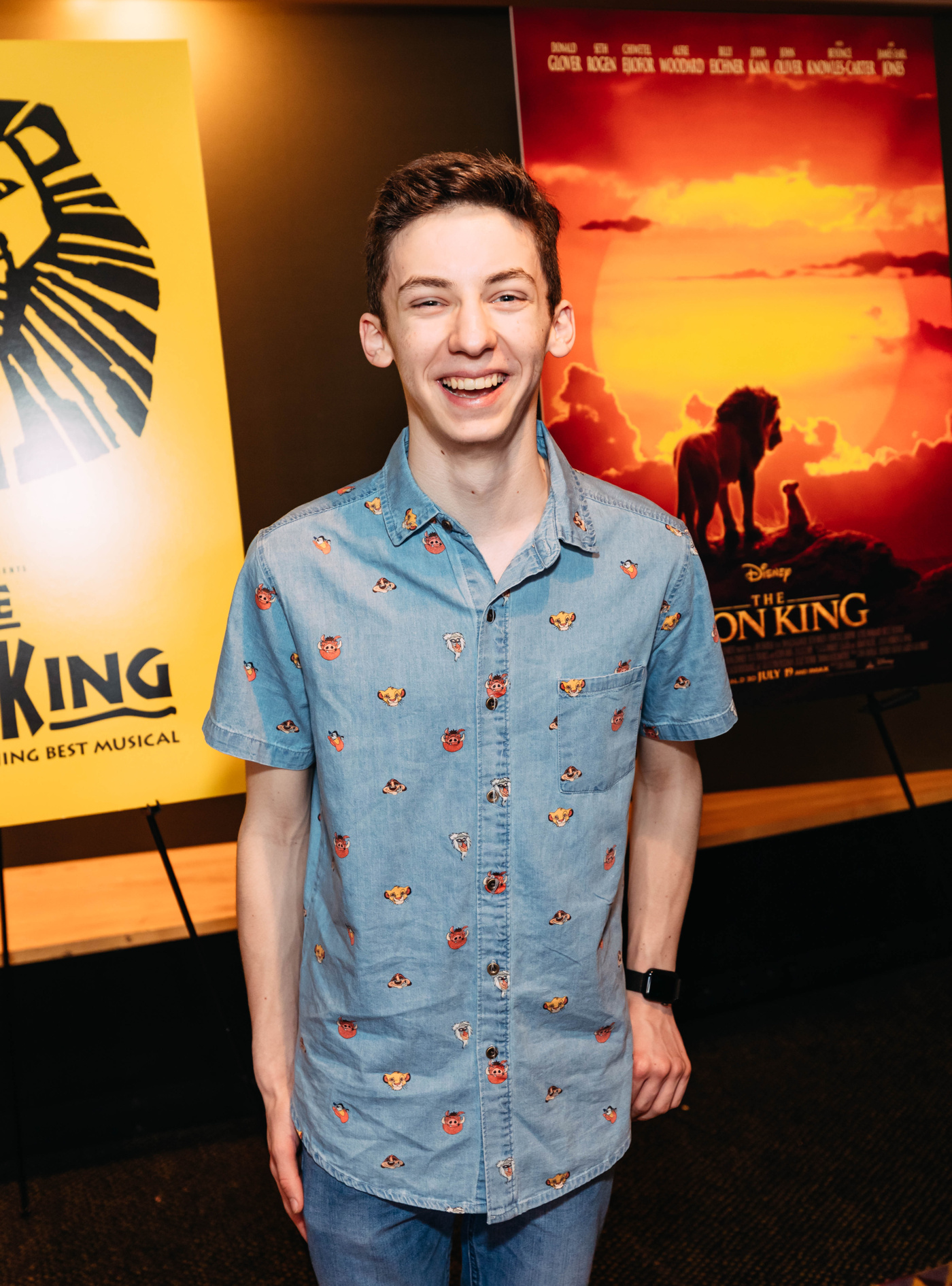 ---
Greta Gerwig & Oscar Isaac to Star in Three Sisters at New York Theatre Workshop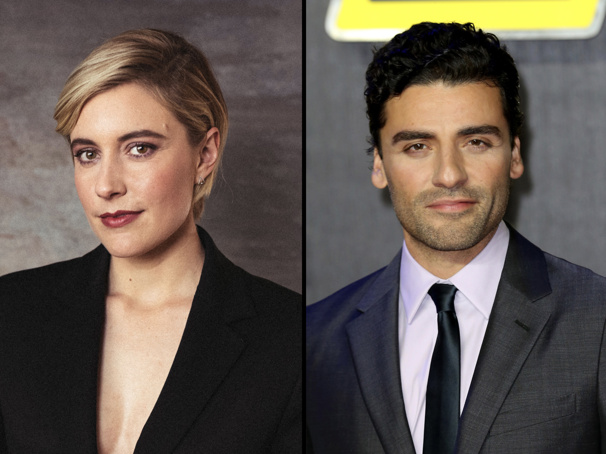 Screen stars and theater alums Greta Gerwig and Oscar Isaac will return home to the New York stage this spring in a new mounting of Chekhov's Three Sisters. Tony winner Sam Gold will direct the production, slated to appear at off-Broadway's New York Theatre Workshop as part of the company's 2019-2020 season.

Gerwig, who will take on the role of Masha, heads back to the stage following a 2014 Outer Critics Circle-nominated off-Broadway performance in The Village Bike, also directed by Gold. She earned a pair of Oscar nominations for writing and directing Lady Bird.

Isaac, who will portray Vershinin, was Drama League-nominated for his 2017 off-Broadway turn in Hamlet, directed by Gold; Isaac's stage credits also include We Live Here, Grace, Romeo and Juliet, Beauty of the Father and Two Gentlemen of Verona. He won a Golden Globe Award for his turn in Show Me a Hero.

Three Sisters centers on the Prozorov family, who are frustrated by their small-town life and long to return to Moscow. But as relationships, duty and misguided optimism take hold, the family finds their dreams drifting further away.

Also new to NYTW's 2019-2020 slate is the New York premiere of Endlings by Celine Song (Tom & Eliza ...
---
Billy Porter, Fosse/Verdon Among 2019 Primetime Emmy Nominees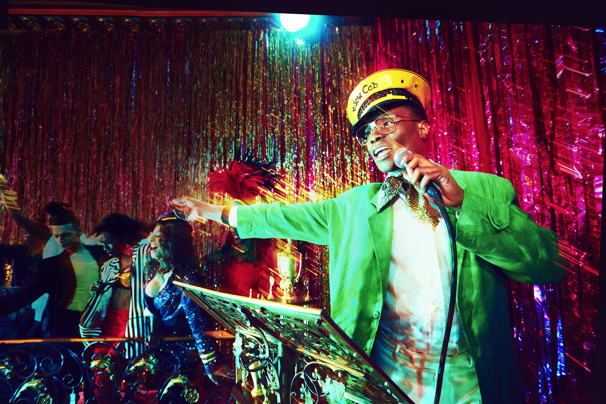 Nominations for the 2019 Primetime Emmy Awards were revealed on July 16. The list includes a handful of series and stars of interest to theater fans, including the Broadway-themed miniseries Fosse/Verdon and Tony-winning actor Billy Porter of Pose. The 71st Primetime Emmys will air on September 22 at 8:00pm ET on ABC.

Broadway veteran Porter, a Tony winner for Kinky Boots, earned his first Emmy nomination as Outstanding Lead Actor in a Drama Series for his fiery turn as Pray Tell on Ryan Murphy's Pose. The series was also Emmy-nommed in the Outstanding Drama Series category.

Fosse/Verdon, the hit series which charted the romantic and professional partnership between Bob Fosse and Gwen Verdon, was Emmy-nommed in the Outstanding Limited Series category, with headliners Sam Rockwell (Broadway's Fool for Love) and Tony nominee Michelle Williams (Blackbird) nominated as Outstanding Lead Actor and Actress in a Limited Series or Movie. Fosse/Verdon was produced by Tony-winning Hamilton collaborators Lin-Manuel Miranda and Andy Blankenbuehler.

Bruce Springsteen earned an Emmy nomination in the category of Variety Special (Prerecorded) for the Netflix release of his sold-out Broadway concert Springsteen on Broadway. Should he win, he will be among the talented few to be named ...
---
Sara Bareilles' Broadway Musical Waitress Will End Its Run
Everything changes. After a healthy, profitable run, the beloved Broadway musical Waitress will close up shop at the Brooks Atkinson Theatre on January 5, 2020. Waitress began previews on March 25, 2016 and officially opened on April 24. By closing, the show will have played 33 previews and 1544 regular performances.

Based on the 2007 film by the late Adrienne Shelly, Waitress follows Jenna, a pregnant waitress in the south trapped in an abusive marriage and looking for a happy ending. She finds relief—and potentially that happy ending—by making creatively titled pies and forming a romance with an unlikely newcomer.

With a book by Jessie Nelson and a score and orchestrations by Sara Bareilles (who thrice replaced in the role of Jenna), Waitress is directed by Diane Paulus, with choreography by Lorin Latarro and musical supervision by Nadia DiGiallonardo. The musical features scenic design by Scott Pask, costume design by Suttirat Anne Larlarb, lighting design by Christopher Akerlind and sound design by Jonathan Deans.

Waitress received 2016 Tony nominations for Best Musical, Best Original Score, Best Leading Actress in a Musical (Jessie Mueller as Jenna) and Best Featured Actor in a Musical (Christopher Fitzgerald as Ogie).

The current ...
---
Back to the Future Musical Sets Additional Casting for 2020 World Premiere in U.K.
More casting has been announced for the highly anticipated Back to the Future musical. The previously announced tuner based on Robert Zemeckis' hit 1985 movie will make its world premiere in the United Kingdom next year under the direction of Tony winner John Rando (Urinetown). The musical will run from February 20 through May 17 at the Manchester Opera House in advance of a West End run, with dates and venue to come.

Newly announced cast members include Rosanna Hyland (School of Rock) as Lorraine Baines, Hugh Coles (The Festival) as George McFly and Cedric Neal (Chess) as Goldie Wilson. They join the previously announced Olly Dobson (Bat Out of Hell) as Marty McFly.

Back to the Future follows McFly, a rock-'n'-roll teenager who is accidentally transported back to 1955 in a time-traveling DeLorean invented by his friend, Dr. Emmett Brown. But before he can return to 1985, Marty must make sure his high school-aged parents fall in love in order to save his own existence.

The musical will have a book by Bob Gale and new music and lyrics by Emmy and Grammy winner Alan Silvestri (who scored many of Zemeckis' films) and Grammy winner Glen Ballard (Ghost the Musical), with additional songs from ...
---
Adrienne Walker Returns to The Lion King as Nala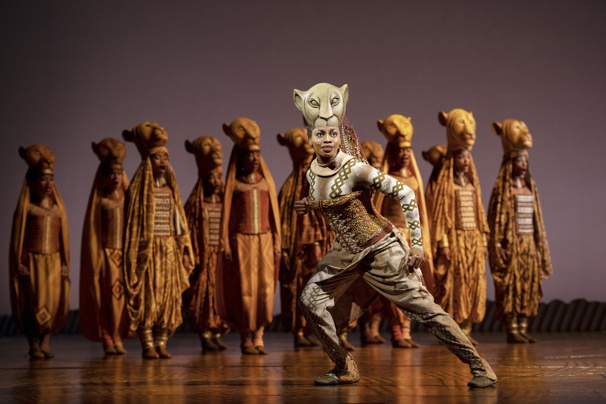 Adrienne Walker, a recent standout of Kiss Me, Kate, returns to Broadway's The Lion King in the role of Nala on July 16. Walker replaces Syndee Winters, who took her final bow in the role on July 14.

In addition to a prior stint in The Lion King and her turn as Hattie in Kiss Me, Kate, Walker appeared onstage in the national touring production of Dirty Dancing.

Walker joins a principal cast that includes Bradley Gibson as Simba, L. Steven Taylor as Mufasa, Tshidi Manye as Rafiki, Ben Jeffrey as Pumbaa, Fred Berman as Timon, Stephen Carlile as Scar, Bonita J. Hamilton as Shenzi, Haven Alexander and Jesus Del Orden as Young Simba, and Suri Marrero and Aliya "Jo" Ramey as Young Nala.
---
Jacob Dickey Takes Over the Title Role in Broadway's Aladdin
Jacob Dickey steps into the title role of the Tony-nominated musical Aladdin beginning on July 16. Recent star Ainsley Melham took his final bow at the New Amsterdam Theatre on July 14.

Dickey previously covered the roles of Aladdin and Kassim in the Broadway production. He also spent time playing the title role on the North American tour.

Dickey joins a current principal cast that includes Broadway.com vlogger Michael James Scott as Genie, Arielle Jacobs as Princess Jasmine, Jonathan Freeman as Jafar, J.C. Montgomery as the Sultan, Mike Longo as Kassim and Don Darryl Rivera as Iago.

Based on the hit Disney animated film, Aladdin features a book by Chad Beguelin, music by Alan Menken, lyrics by Howard Ashman and Tim Rice and additional lyrics by Beguelin. The production is directed and choreographed by Casey Nicholaw with music supervision by Michael Kosarin.

Dickey will play a limited engagement through September 12.
---
Broadway.com #LiveatFive with Sas Goldberg of Moscow Moscow Moscow Moscow Moscow Moscow
Sas Goldberg stops by Broadway.com HQ to chat about Moscow Moscow Moscow Moscow Moscow Moscow and more with Paul Wontorek.
---
Odds & Ends: Lea Michele to Lead ABC Movie Same Time, Next Christmas & More
Here's a quick roundup of stories you might have missed today.

Lea Michele to Lead ABC Movie Same Time, Next Christmas
Lea Michele is ringing in the 2019 holiday season with a starring role in an original TV movie, Variety reports. ABC will present the new film, titled Same Time, Next Christmas, slated to debut, not surprisingly, in December. Michele "will play Olivia Henderson, a young woman who met her childhood sweetheart during her family's annual Christmas visit to Hawaii. After being separated by distance and years, the two reunite at the same Hawaii resort years later and the old chemistry between them flares up anew, but circumstances conspire to keep them apart." Michele is an Emmy nominee for Glee who has been seen on Broadway in Spring Awakening, Fiddler on the Roof, Ragtime and Les Misérables.

Abrons Arts Center Sets World Premiere Theatricalization of The Jazz Singer
Off-Broadway's Abrons Arts Center has announced a world premiere experimental reinterpretation of the 1927 film The Jazz Singer, scheduled to play the downtown venue from September 24 through October 12. Reinterpreted by Joshua William Gelb and Nehemiah Luckett, The Jazz Singer, set on the Lower East Side, tells the story of a ...
---
American Repertory Theater Announces Full Cast for Olivier-Nominated Musical Six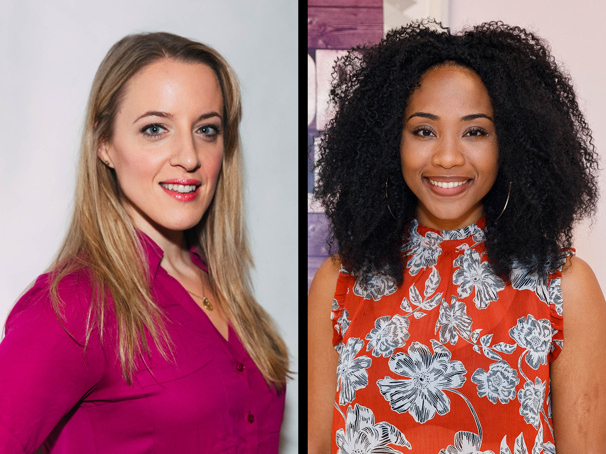 American Repertory Theater has set casting for its upcoming staging of the Olivier-nominated musical Six, slated to play the Cambridge, Massachusetts theater later this summer. The previously announced production, arriving on the heels of a North American premiere at Chicago Shakespeare Theater, will run from August 21 through September 27.

Repeating their turns from the Chicago staging will be Abby Mueller (Beautiful: The Carole King Musical) as Jane Seymour, Adrianna Hicks (The Color Purple) as Catherine of Aragon, Andrea Macasaet (Heathers) as Anne Boleyn, Brittney Mack (Memphis) as Anna of Cleves and Anna Uzele (Once on This Island) as Catherine Parr. They will be joined by Courtney Mack (Mamma Mia!) as Katherine Howard.

Written by Toby Marlow and Lucy Moss, the musical centers on the six ex-wives of King Henry VIII, who headline an electrifying pop-concert spectacle—flipping the narrative on the one-sided story from our history books.

Six is directed by Moss and Jamie Armitage, with choreography by Carrie-Anne Ingrouille, music direction by Katy Richardson and music supervision by Joe Beighton. The production will feature scenic design by Emma Bailey, costume design by Gabriella Slade, sound design by Paul Gatehouse, lighting design by Tim Deiling and orchestrations by Tim Curran.